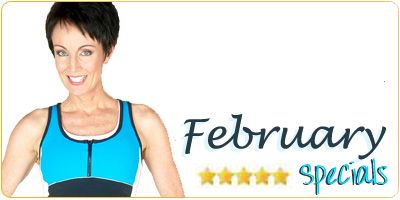 CRT Skin Tightening System DVD ONLY $69.95!
Retail Value Over $139.00 and the following Bonus items for FREE:
Immune Boost to help increase body's ability to produce collagen for skin tightening (Retail $19.95)
Personal Profile Audio CD Set (Retail $29.95)
Yes You Can Seminar DVD (Retail $21.95)
This complete system utilizes Teresa Tapp's unique Cellulite Removal Techniques for fast and effective results. The CRT Skin Tightening System consists of skin brushing with a particular body brush in a sequential pattern to stimulate the lymphatic system and help to break up the clumps of fat (cellulite) underneath the skin. Instead of skin creams, body-wraps, or elaborate machines that provide expensive, yet temporary results, the CRT Skin Tightening System works from within. The body eliminates the cellulite and tightens the skin naturally! This technique also works wonders for those who have lost a considerable amount of weight or for new mothers looking to tighten up excess loose skin. The CRT Skin Tightening System combines supplementation with body brushing and takes less than 10 minutes a day to complete!
T-Tapp's special body brushing program along with premium nutritional support is designed to help your body, help itself, inside and out. Not only will it help your skin tighten and tone, control of cellulite becomes possible! Teresa's special pattern of body brushing "exercises" your skin, accelerates your body's ability to release toxins and improves your metabolism. Great for those with auto-immune disorders, CRT body brushing promotes healthy tissue with less inflammation. The DVD that shows you how to body brush also includes 4 unique exercises that can help you target trim inches away and decrease cellulite: Awesome Legs, Jog Rocks, Hoe Downs and Diva Derriere.
The CRT Cellulite Removal & Skin Tightening System includes:
Plus...

BONUS Immune Boost Nutritional Spray: Help increase body's ability to produce collagen for skin tightening. This special formula was originally created to help aid the body to help prevent a cold and/or shorten the duration of a cold. Immune Boost Sublingual is more effective than Vitamin C + Zinc lozenges due to its delivery system - by not being in a sugar "candy" that must dissolve in the GI tract before assimilation. The Vitamin C in Immune Boost will also help the body resist bruising. During times of stress, use Immune Boost Sublingual along with B-12 Plus to help prevent body breakdown. Take 1/2 an eyedropper full at 10 a.m. and 2 p.m. to support your immune system. For cold and flu relief, increase to 1/2 an eyedropper full 4x daily or as needed. (Retail $19.95)
BONUS Personal Profile Seminar Audio 2-CD set: 82 minutes Features Teresa Tapp explaining how her Personal Profile approach creates easier weight loss, improved health and better body function. The seminar details how blood type matters but that dominant/recessive genetic factors can change blood type factors, how the distance between knee to ankle versus rib to hip can affect weight loss as well as weight gain and how ethnic heritage can affect dietary processing. Previously only available through private consultations, this information can now be learned for a fraction of the cost. *Audio CD Set includes 2 CDs. (Retail $29.95)
BONUS Yes You Can Seminar DVD: This 90-minute educational seminar is very informative and motivational. Teresa explains why she developed T-Tapp, how to apply T-Tapp Techniques with daily activity and teaches several T-Tapp exercises. It's a great way to share with friends and family when they ask "What is T-Tapp?"(Retail $19.95)

ALSO INCLUDED:
Additional Tips for Optimal Results brochure

God Made/Man Made Dietary Program brochure

Unlimited Free Tech Support